Careers
Core Midwife / Registered Nurse
48 - 72 hours/fortnight (0.6 - 0.9 FTE)
The Midwife/Registered Nurse will be in sole charge while on duty and will be working rotating 12 hour shifts and may include some on call.
Clutha Health First is an integrated family health centre offering a range of services including maternity. Balclutha is within commuting distance of Dunedin and Gore.
Clutha Health First provides:
A friendly rural birth unit;
A small, supportive and friendly team environment;
Commitment and support with professional development;
Competitive pay rates.
The following documents are available for this position:
When applying for this position, your application must be supported by a completed CHF application form and police vetting form (section 2). Applicants for this position should have NZ residency or a valid NZ work visa.
For enquiries or to submit your application, please contact:
Megan Pigou, Maternity Services Team Leader.
Email: [email protected]
Telephone: 027 201 8131
Applications close: 7 December 2020
GP (FRNZCGP)/Rural Hospital Medicine Specialist (FDRHMNZ)
Full Time (negotiable)
Clutha Health First (Balclutha) is a truly integrated health centre incorporating a 15 bed medical ward, General Practice, Medical Assessment Unit, Primary Maternity Birthing Unit, onsite radiology and pathology services, a broad range of specialist outpatient clinics and supporting Community/Allied Health services. The secondary service covers the South Otago region with a catchment population of about 16000 and the General Practice servicing 8000 enrolled patients.
We are seeking FRNZCGP and/or FDRHMNZ to join our team of GPs and Rural Hospital Specialists.
The General Practice is Cornerstone accredited and composed of a team of seven GPs, Nurse Practitioners, and support staff. Our GPs are credentialed to provide specialty interest clinics in fracture, breast lump, minor surgery, joint injection and pipelle biopsy. Our staff are able to work closely with specialists who visit Balclutha regularly.
Our clinicians take pride in education and training. We are accredited by the University of Otago to host Rural Medicine Immersion Programme (RMIP) students each year, and we are continuing to host both GPEP1 and GPEP2 registrars each year. Accreditation to host RHM registrars is currently being sought.
Our inpatient unit has 15 acute beds. We employ three dual Fellows and a MOSS on the ward and 2 other dual Fellows provide regular cover. SCL provides basic pathology on site and point of care testing, with a full range of lab testing provided from Dunedin. Pacific Radiology provides office hour X-ray and ultrasound and on call radiology after hours. We have a brand new Sonosite X-port ultrasound machine and we support ongoing POCUS credentialing of our staff.
We aim to further integrate primary and secondary care in order to improve patient care. GPs already have full access to our hospital and the DHB's notes and vice versa. All our notes (including ward daily notes) are recorded electronically on Medtech (GP) or on Health Connect South (inpatient). GPs and hospital staff have electronic access to radiology images and reports. We hold combined peer review meetings (over videoconference when needed) and will further introduce combined projects aiming at reducing repeat admissions. Combining primary and secondary care also means we can provide extensive admin support not usually available to general practices, e.g., we have an in-house IT specialist and in-house maintenance manager.
Other projects aim to enhance the patient flow between St John ambulance, general practice, the medical assessment unit, the inpatient ward, thereby improving continuity of care from primary to secondary (and then back to primary) services.
Ideally you are a rural generalist who can work seamlessly across the primary and secondary services, as we further integrate the two services. However fellows in either discipline who prefer to work either in GP or Rural Hospital Medicine are also encouraged to apply. We will also consider senior registrars near the end of their training. You will have a passion in undergraduate teaching and postgraduate training and can assist in the RMIP teaching and in supervising registrars. Specialist interests are highly desirable.
This position offers you:
Innovative, progressive and friendly organisation
Model of care that is integrated across primary and secondary services
Opportunity to work across the primary and secondary boundary
Opportunity to affect positive change in the community
Attractive remuneration package comparable to the ASMS SMO MECA
With the world class surf beaches and the Catlins coastline just 20 minutes' drive and Central Otago 1.5 hours away, outdoor and sporting opportunities are broad, while close proximity to Dunedin (1hr) allows family members to pursue career options in a city if necessary. South Otago offers a relaxed lifestyle, friendly people and supportive community with strong educational facilities all combining to deliver a good work life balance.
The following documents are available for this position:
For enquiries or sumbission of an application form (must be accompanied by a completed Police Vetting Form) please contact:
Gary Reed, Clinical Director
Email: [email protected]
Phone: 027 228 577
Why Clutha Health First?
We have a large, modern facility which is well equipped with modern technology. Clutha Health First has great collegial relationships between our staff and General Practitioners both onsite and within the Clutha District.
We offer generous education allowances and annual leave entitlements. We are supportive of staff training and professional development.
Clutha Health First is accredited with the Health and Disability Sector Standards for Inpatient and Maternity services, including Infection Prevention and Contol and Restraint Minimisation and Safe Practice; our Genaral Practice is Cornerstone accredited, and our Maternity Unit also is accredited in Baby Friendly Hospital Initiative (BFHI).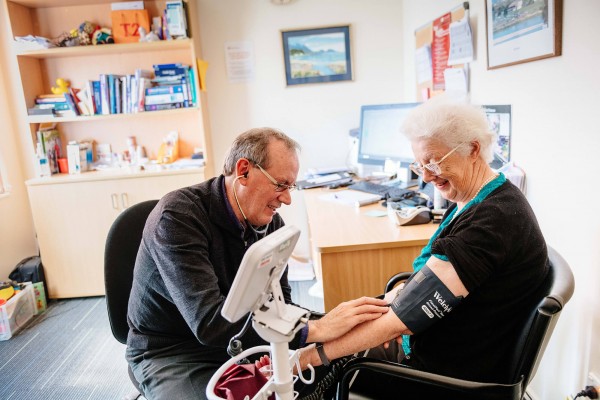 Clutha is a great place to achieve work/life balance. With stunning scenery, vibrant thriving communities and plenty of space it's life at a slower southern pace.